I am a recruiter. I read CV's for living. I love my job, and enjoy doing it for many years now. I have seen the good and the bad when it comes to the CVs. What makes me sad is the CV with a great content and a poor presentation!
I wrote a blog post on How to get the Recruiters attention in 6 seconds. Why 6 seconds? This is how recruiters work. A recruiter will not spend more than 6 seconds on a CV if he doesn't need to. If he finds "nothing" on a CV in the 6 seconds, the CV goes to the bin.
I also wrote an article about The CV that opens every door for you. That is the purpose of the CV, to get you the interview. You can only achieve that if it attracts the recruiter's attention. He needs to find what he is looking for  in your CV.
CV Format
The CV Format is the key in presenting your skills. The same experience and education in two CV formats present a completely different picture. The format determines the candidate quality in recruiter's eyes.
Why is the CV so important? The CV format has to show the intent of the applicant. Imagine you are a computer programmer and you are looking for a new job:
If you are a looking for a computer programming job, you have to start your CV with your computer programming achievements followed by the skills. Then you list the latest job/role where you explain the project you are using those skills and relevant technologies.
If you have the same experience and are applying for a software development manager role, you have to start your CV with your leadership and management skills, only to be backed up with your technical skills.
If you are applying for a QA role, the list of the QA tools have been using goes on top with the number of years you have used each.
If you are applying for a teaching job, your education goes first.
Now let's look at your CV and also the job you are applying for. If it's a teaching job your education should follow your name, if not, it has no other place but listed last on the CV. All you need to do is to mention your best title in your profile on top – like:
Senior Software Developer with BSc in Informatics and 6 years Java Front End experience
Think of it as a company tagline. Reading that, if you are applying for a Java Front End job will make any recruiter continue reading with the interest! A front page of the CV full of your high school names and titles your obtained that are irrelevant to the role you are applying puts you at great risk of your CV not being read at all.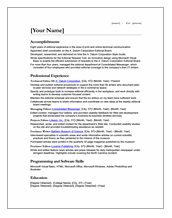 CV is your brochure. It is the perfect marketing material. Put your sales hat on and read your CV. Is it catchy? Does it showcase your skills? Will it sell you as a perfect candidate? If not, you are better off writing it from scratch.
A good template will help. A bad template will "kill" your CV. The popular European CV Template is a prime sample of a template you should never use if you are looking for a computer programmers job. Why? Simply because the first page of anyone's experience will not say anything interesting to any recruiter looking for a programmer.
Download the @IrishRecruiter CV Template. Putting your data in it is easy, and it will guide you to showcase your most relevant skills and experience for your next job. Your CV will stand out. You are far more likely to get a job you are applying for with the CV in the right format.
When you are done editing your CV – remember to save it with a file name that starts with your name and the job title you are applying for. It will make it stand out from majority if the applications where a CV is simply called "CV.doc".
Will you invest your time in creating a perfect CV? Or will you let others keep sending the CVs that are far more attractive than yours?